Image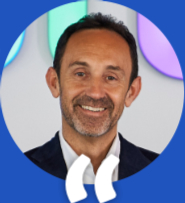 We have summarized what we want to accomplish and be in our claim "everyday matters".
The reason we did this is to emphasize the enthusiasm that drives us every day
to support people, not only with our products, but also by acting responsibly
for the planet and society.
Antonio Fazzari
General Manager, Chief Operating Officer
LETTER TO STAKEHOLDER
Dear Stakeholders,
It is with great pleasure that we present Fater S.p.A.'s new sustainability report, which shows what we have learned and achieved in fiscal year 2021/2022 and the changes put in place to maximize our commitment to sustainable growth.
As you will read, it was a year when we made significant strides in our vision of sustainable growth, combining the company's development plans with environmental protection and a focus on social impacts and always doing the right thing.
It all starts with people first, which has always been our ultimate goal as an enterprise. Every day we strive to make a positive impact on the people on our team and to transfer this value outside the company for the public and those who choose our products.
Here are some aspects of our journey over the past year which I consider particularly important:
We developed a materiality analysis by listening to relevant stakeholders to define the issues to work on.
Based on the results of the materiality analysis, we strengthened our work program to protect the environment and to generate positive change in society.
We defined clear medium and longterm goals (Sustainable Development Goals) to ensure the clarity and transparency of our commitment.
We've set up a governance that is consistent with the commitments undertaken, and this report - Fater's first with reference to GRI standard - is the first step in this direction.
In June 2022, Fater celebrated thirty years as an equal joint venture between its two shareholders Angelini Industries and Procter & Gamble. An amazing milestone, but most importantly a starting point for looking to the future of the company and its impact in the world.
As you will read, we have summarized what we want to accomplish and be in our claim "everyday matters". The reason we did this is to emphasize the enthusiasm that drives us every day to support people, not only with our products, but also by acting responsibly for the planet and society.
We hope this Report will serve as a new opportunity to receive feedback and suggestions to better direct our course. Because, even to listen and improve, "everyday matters".
Enjoy your reading
Image
Antonio Fazzari
General Manager
and Chief Operating Officer Fater S.p.A.
Everyday Sustainability
Discover more
EVERYDAY SUSTAINABILITY
We work for a better tomorrow by protecting what matters, every day
Everyday matters
FATER SUSTAINABILITY STRATEGY
Fater's sustainability journey has evolved over the years. First, the company approached the environmental aspects of sustainability, then began focusing on each stage of the life cycle (upstream, corestream, downstream) and eventually gained an overall vision of sustainability as described below.
During 2021-2022, the Company took an organic approach to Corporate Sustainability and built an organizational structure, decision-making, planning and monitoring processes based on the goals set.
Over the same year, Fater developed the materiality analysis helped by consultants with relevant stakeholders involved, defined the scope of its action (Fater Sustainability Framework) and the roadmap with medium- and long-term objectives.
THERE ARE 3 AREAS FATER INTENDS TO FOCUS ON
"For You"
the people at the center, as the driver for all ESG actions.
Although Fater has already defined corporate commitments that include sustainability and launched projects about it, developing a formal framework with clear ambitions and goals is a key step in the Group's sustainability journey.
By leveraging the outcomes of the materiality assessment and workshops with selected leaders, managers and ambassadors within the G roup, Fater aimed to strengthen the bond between sustainability strategy and business.
This vision has been translated into Fater's ambition "We work for a better tomorrow by protecting what matters, every day" which contains the element of time as commitment to the future and the concept of tangibility conveyed by the verb "to work".
Our commitment wants to be real, starting right from the sense of protection generated by the very product categories Fater specializes in.
SUSTAINABILITY AT FATER
Fater believes that supporting people development within the company and in society, making your own contribution to protecting the planet, and working transparently is the best way to go for sustainable growth of the company and its brands.
Sustainability at Fater is a core element which defines the Group's industrial strategy. The aim is to grow the present and future value of the Group and its brands using a multistakeholder approach.
Each of these areas has annual and multi-year projects, has clear leadership and dedicated teams, and is subject to regular monitoring to check progress against goals.
17 SUSTAINABLE DEVELOPMENT GOALS - SDGS
Image
169 targets to be achieved by 2030
The sustainable development goals set have a global scope, affect and involve all the countries and members of society, from private companies to governments, civil society to information and culture players.
The 17 Goals cover a set of important development issues that consider the three dimensions of sustainable development – economic, social and environmental – in a balanced way, aiming to end poverty, fight inequality, tackle climate change, build peaceful societies that respect human rights.
Based on those 17 goals, Fater has identified the most appropriate SDGs relating to its strategy and the materiality analysis.
Everyday Climate Protection
Discover more
EVERYDAY CLIMATE PROTECTION
Innovation takes many forms and directions. Ours travels Everyday further toward a sustainable future. Fater's contribution to the planet is focused on the consistent reduction of our environmental impact. We are committed to taking action now to ensure the well-being of all both today and for generations to come.
Everyday matters
FUTURE IS BUILT EVERY DAY
GOALS 2025
Image
-50%
virgin plastic in packaging
Image
80%
weighted supplier with a commitmet consistent with Fater ESG target
Image
100%
new launches with ≤ C02 emissions
Image
-75%
virgin plastic in packaging
Image
100%
suppliers ESG policy compliant
Image
25%
of volume sales from disruptive innovation
Image
-42%
Scope 1&2 (1)
Image
-25%
Scope 3 (1)
Image
Net Zero (2)
1 vs base FY 2020/2021. For scope 3, consider the Categories of GHG Protocol 3.1, 3.3, 3.4.
2 vs base FY 2020/2021.
A CONCRETE COMMITMENT
Fater wants to do its part using less virgin plastic, contributing both to the reduction of emissions generated by its production cycles and the fight against plastic pollution.
This is why today 100 percent of Fater's primary packaging is already recyclable. In addition, Fater began marketing packages with increasing percentages of recycled plastic within the packaging of its best-selling products.
Image
100%
recyclable home care and personal care packaging
Image
Recycled plastic
packaging within some of best-selling products: Lines Seta Ultra, Pampers Baby Dry e ACE laundry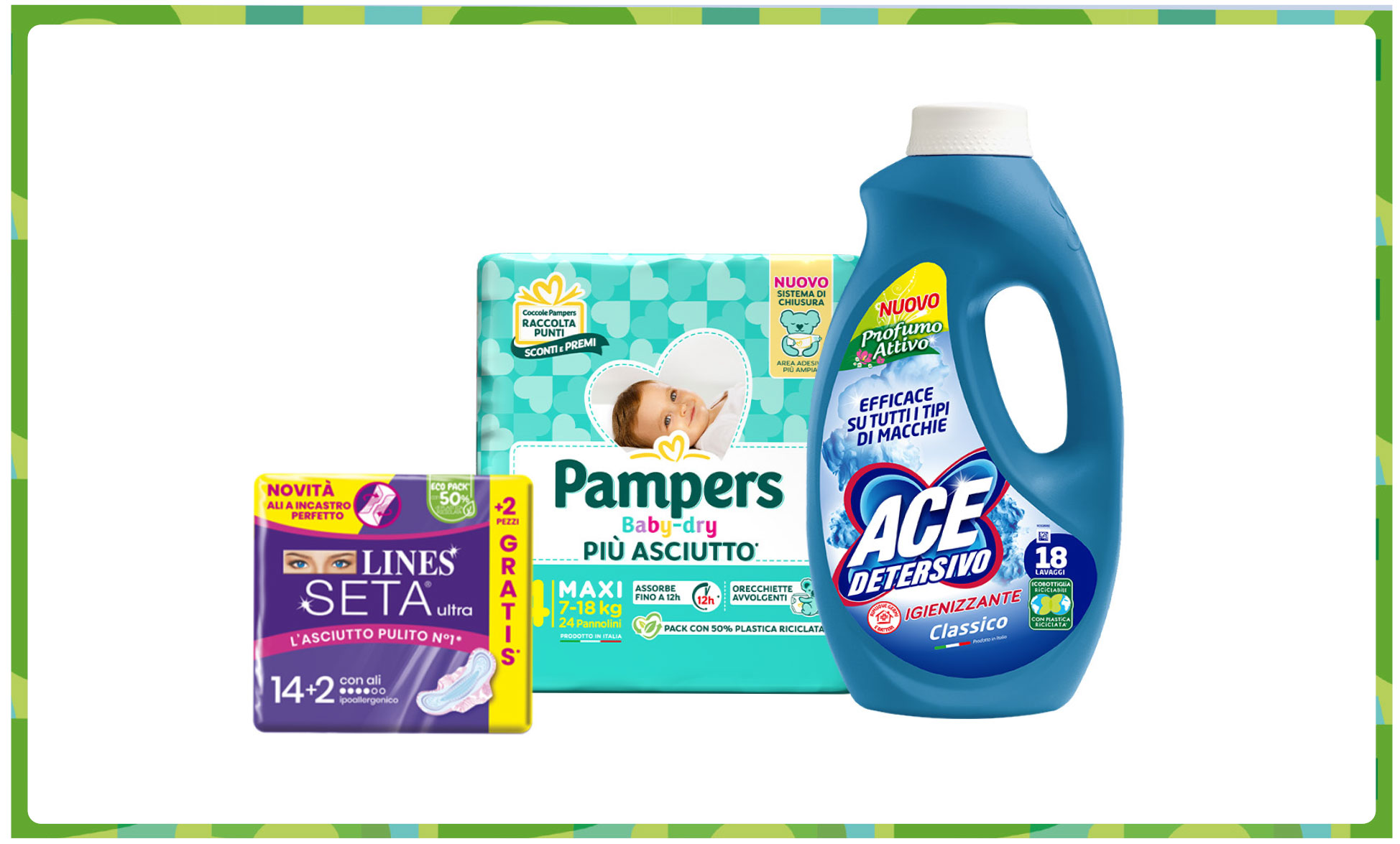 Fater's business philosophy is rooted in combining product and innovation with the aim of designing and making sustainable products with lower environmental impact that meet the evolving needs of consumers by removing any trade-off between performance and reduced environmental footprint.
Through the study of raw materials and the development of new production processes and technologies, the Group has established a pipeline of green projects for brands by completely rethinking product design and considering the most appropriate ways to reduce end-of-life impacts.
Image
Line up green
(Ace Green, Pampers Green Generation, Lines Natura)
Everyday a Better Society
Discover more
EVERYDAY A BETTER SOCIETY
A beating heart, a thoughtful mind, a thought that in turn becomes an action. Our people are at the center of the change to come. It's our talent our skill and our passion that will move the world, inspiring each of us to grasp our full potential. Everyday means creating a better society: for us and for you!
Everyday matters
FUTURE IS BUILT EVERY DAY
Image
-
≥80% satisfaction internal survey
Image
-
600.000 of positively impacted people through initiatives giving back for community
Image
-
0% gender pay gap
Image
-
Gender-balance at Mgmt level
Image
"People First" is Fater's main strategy for its people to live the best possible work experience. Our ambition is to enhance people talents to create a climate of trust and happiness able to go outside Organization's boundaries to reach clients, consumers and citizens.

LISTEN
Is the starting point for People First, as active listening helps you map the effectiveness of actions already taken and drive those for the future.

GROW & IMPACT
Growth & Impact aims to enhance the strengths of Fater's people by expressing their own talents.

ENJOY
Through the "Enjoy" program Fater is committed to designing an engaging work environment based on open discussion, delegation, focus on results and the concept of trust.
INCLUDE
Fater wants to be a place where all the people feel welcome, valued, and respected.
INSPIRE
Aims to be inspired to pass on experiences and knowledge within Fater.
A CONCRETE COMMITMENT
Everyday Responsibility
Discover more
EVERYDAY RESPONSIBILITY
Fater's first commitment is to ensure a well-defined, substantial and transparent governance whilst nurturing and promoting a culture of sustainability within the Group.

A responsible and proactive approach with actions as a result of policy continuity and principles of conduct, capable of involving and inspiring our entire organization.

At all levels, up to you.
Everyday matters